So as we leave Massachusetts (for now, returning later) I leave you with a link for a New England clam chowder recipe. I'd planned to make this for my family but my husband (and myself) find that rich, cream dishes are best to forgo. I still love the thought of a creamy and steamy, thick white clam chowder.
Dave Lieberman's New England Clam Chowder from Food Network web site.
I think soups are perfect for chilly winter evenings, but my family doesn't seem to think dinner surrounded by liquid is their idea of a good meal. I appreciate the ease of throwing a bunch of healthy ingredients in a pot of water and then just letting it simmer over the stove for an hour. So my mission is to find that ideal soup recipe that makes my family likes. It always makes me think of that story about Stone Soup.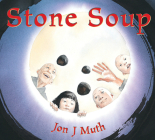 Shop Indie Bookstores
So as we cross a new state border, we wander over to Kentucky, a state with rolling green hills and stately white fences and a history of horses. Our friend Dianne Reed of Overland Park, Kansas, says it's a friendly state that despite status everyone talks horses. "The horses are such a great equalizer," Dianne says. "From barn workers to dealing with the richest people in the world, everyone talks about horses. Perfect Drift opened a lot of doors for us."
As a three-year-old gelding in 2002, Perfect Drift placed third at the Kentucky Derby and continued to have a successful racing career for many years after. Since 2009 Perfect Drift has spent the warmer months as the horse in residence at the
Kentucky Derby Museum, right beside Churchill Downs.
But this week, Perfect Drift will be returning to his annual winter home with his owners, Dr. William and Mary Reed of Stonecrest Farms, south of Kansas City.
We'll share more of Perfect Drift's great story later this week -- you've got to have a great horse story for Kentucky Week, and Perfect Drift's is a Cinderella story.
While we're on soups, here's a link from
Simply Recipes for a typical soup/stew called Kentucky Burgoo.